Hey there.
So a brief introduction. I'm a licensed personal medical grower. I have a 49 indoor plant count limit, though I am usually never near the limit unless I have clones going. I'm just a little too far north, and I have too many neighbors overlooking my place to even bother having an outdoor limit added to my license.
I'm running several tents:
6x6 (veg/bloom), 5x3 (veg/bloom), 4x4 (drying), 4x2 (veg/bloom), 3x2 (moms)
I have about 3000W or so I believe in QB style LEDs and a couple blurples tossed in the mix. I dropped HID several years ago and I haven't looked back since. I had my fun with it, but it was time to move on.
So here are my active grow tents.
Here is my 5x3 (actually 60"x30" but I rounded up to 3') I have three old moms that were getting tired in their old fabric bags. I figured I'd transplant and veg them out, get them greened back up a little, and then flower them. From left to right, LSD, Zombie Diesel, Zombie Virus
10 gallon bags, organic. Hopefully this and my SCROG are my last dirt runs though. Dirt is just too dirty and my back can't take being hunched over the bathtub mixing 50 or 60 gallons at a time anymore.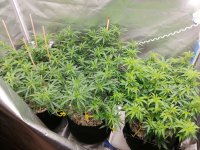 Here is my current Hempy bucket run. 6x6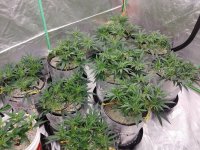 I will probably be going back to Hempy from now on, or a mod of it at least in all my full grow tents, maybe even my mom's too. I used it years ago. I liked it. I moved here, and it's like I forgot everything and went back to dirt. Why, I have no idea. But I'm back doing it the way I like it. Simple and effective, lightweight but powerful. I've always had good results with Hempy.
Triple Cheese, FlowerBomb Kush, and LSD are the strains here.
And finally, here is my SCROG tent (4x2). This plant needs a serious haircut tonight I think. I normally just tie them down and then let them go so trying to plan a SCROG has been a new learning experience. I figured I'd make a net and see what happens. Any advice is welcome. LSD is the strain here.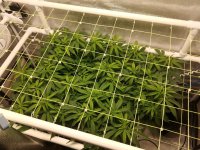 In the Hempys (6x6), I am using Holland Secret 3 part, Hygrozyme, HyShield, Remo Nature's Candy and Orca Myco & Bennies for nutrients and additives. They seem to be a good combination.
In the dirt pots (5x3 & 4x2), I am still using the Hygrozyme, HyShield, Nature's Candy and Orca Myco & Bennies, but I instead use Alaska Fish and BioThrive 'organic' liquid bottles.
The soil has EWC, and compost, extra perlite and Gaia Green general dry amendment.
P.S. Sorry no bud porn right now. Just had some crappy timing and a perfect storm with work, landlords and some cloning failures. Unfortunately, everything is vegging right now. But follow along and there will be buds soon enough.