Hello everyone! Was referred here by a buddy for some cool chats, info, and logs!
I'm MisterPfffff (my handle on IG as well).
Been growing 8 years now and finally confident enough to start making my own beans.
I started last year by f2'ing Cap's MAC and Cheese for personal stock, to hunt through more without paying for more packs and to try my hand at selecting and using a male.
Last november I finished my Strawberries & Cream f2 project hitting a few mothers I phenohunted the previous run.
I hit G6 (Cookie Jar x Chocolate Frosting) by Honest Genetics, Sophiesbreath as well as Pure Michigan 2.0 by Thugpug, MAC and Cheese by Cap, and Banana Puddintain by Swamp Boys.
Tossed a bunch of testers out as freebies to share the love and get some feedback.
Testing out my G6 cross now and this is how it's looking so far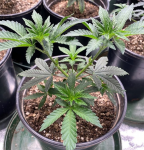 This year, within a month or two, I plan on starting a project I've had my mind on since 2012. Working Orgnkid's Banana OG into my own lines.
It drove me nuts that most breeders just use famed cuts for crosses and move on - I want the banana terp completely locked into seed - with a few variations here and there depending on the cross. Zoolander is the only fella I'm aware of that's actually working the line in depth.
So I've decided to create Banana OG bx1 - for a solid foundation line to use males from, for outcrossing to other banana crosses (not exclusively).
I'm receiving the Orgnkid cut soon sourced through a breeder, and plan to hit a male from Zoolander's Banana OG f3 to it for the initial bx.
I then plan to hit a bx male to a keeper female from Inhouse's Iced Bananas (Banana OG orgnkid cut x Platinum (reversed)) fems in hopes of frost content and potency from the Platinum, while staying mostly true to the Orgnkid cut genetics.
This is how the plans look this far - and plan to continue on from there with other Banana crosses I've got tucked away in the vault.
I mentioned this plan to both Orgnkid and Zoo and both were thrilled to hear that someone wanted to work with it (even though I'm extremely small-time).
Zoo only plans to F4 and Orgn is making a new Banana 2.0 from the original OG Kush x Sag60/40 seedstock. So all 3 projects are still different from eachother.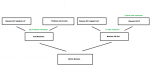 I'll leave it at that for the moment!
Sorry for the ranting! Just excited about finally getting the chance to do Banana some justice out there.