This will be my garden compost heap of new beginnings. A shift away from the unnatural to everything organic.
It took me a while...and a lot of tea but i got there.
I got this book...it changed my life. Not that book....or that other one....this one
The thrips did it for me. My lazy behavior was the opposite of zen. it was the wrong approach.
Weak plants thrust into buds as fast as possible when i have the time....it was a fools errand and i turn the page.
Today i planted plants in live soil for indoors. It smells like mushrooms. i did it in sandals too ! It has BEGUN !
And a massive thank you to
@J. James
for sharing this resource. It came at precisely the right time for me.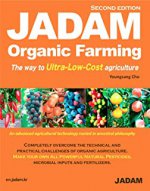 I will keep the coco and weird shit in the tents and in the perpetual journal but i may shift away from it....
Last edited: