Jesse Loves 2 Grow
Staff member
Moderator
Q-36 Space Modulator
Love my 4 legged family members.
Like em more than most of my blood. Lol
Let's see those non human parts of the family.
???????????????
This is my big whiner Blue Dog. Lmfao.
She's a 10 month old Pitty rescue adoption.
Friggin smart dog, she's learning fast.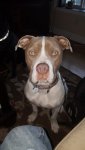 She loves watching everything.
Better than a security sticker in the window eh?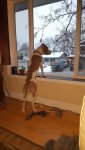 She also doesn't put up with anyone taking her spot. Lol. Yes, she's sitting on Moon.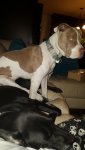 And my 10 yr old Moon Dog. She gets to go everywhere I do. She's my truck dog. Gets to go to work every day with me. She loves it. Lol.