Did a little more work on my small greenhouse this aft.
I finished up the second layer and installed the inflation blower. Probly won't need the insulation till fall but the inflated second layer will hopefully absorb any hail this summer. I run a thermo actuated damper at the lower back for cooling air in and a furnace fan on the front top for air out run by a thermostat.
Light dep motors and plastic will go up soon.
First girl is one of my own chucks. Super lemon haze x orange sundae dust from
Heathen. Made a real nice stockey orange stinky plant. Trying out the dirt thang. Pro mix and home made worm poo worms and all. Been feeding them used chicken feed and frass from my meal worm farm. Not sure how it's going to work out but it has lots of meal worm sheds. Chitin?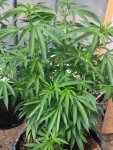 One of Heisens freebies Katzu bubba x ECSD in a sip. growing nicly. Little weak in the stem department will need some support soon.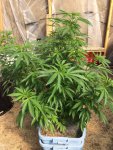 These are some autos I got some seed from an old friend. They ran some in the early 90s and kept a few seed. I did get a male and dusted these two girls. Little ragged they were inside and I think the one has some root issues. But they are ripening up some seed. Already shucked some and have 4 up ready to plant outside for the summer. Budzilla they called them LOL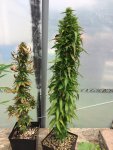 Hears looking in the screen door. Camper heater on the right to keep Jack Frost at bay for the chilly nights. In the lower back is the thermo operated door for cool air in.