"The Big Bang began a process of expansion and cooling that continues today. It was not an explosion of matter into space, but an expansion of space itself, and in the beginning, it brought time and space into existence. The Big Bang model does not explain all the features of the universe, however, and it continues to be refined." -UNIVERSE : The Definite Visual Guide
Welcome to my spot for bubble hash and concentrates! As you can see I like some alliteration. Decided to make this thread as I plan on working my way to making some 6* hash rosin and really good flower rosin and I'd like a place to document that, the good and bad. I'll add post about RSO and edibles here and there also. Hopefully this will be useful to someone!
I recently bought some 1 gallon bubble bags and tried making some bubble hash with trim that had been sitting in the freezer since 2019. It was mostly Murse Ratchet along with a little trim over the past couple of months, I'd estimate 1-1.5oz of trim/popcorn nugs. I didn't think to take pictures until I was already collecting but I'll do that next time.

Items Used:
1 Gallon All Mesh Bubble Bags (Bought 8 pack, used 220u, 120u, 90u, 73u, 25u)

1 Gallon Sterilite Pitcher (Should've bought 2)

5 Pack 25 Micron Screen

Trim/Popcorn Nugs

Metal Spoon

Parchment Paper

Cardboard Box

Ice

Metal Bowl

Metal Grater
Okay so the main thing is you want everything to be as cold as possible and you must have a lot of patience, put on something and get in the zone. A lot of this is repetitive and somewhat tedious. You want to put your metal spoon in the freezer and you should place it in there in between every collection, I didn't because I got lazy toward the last bags every single wash. I used the metal bowl to do the actual washing as I didn't buy 2 pitchers and the 1 gallon is too small to mx in with the amount of trim and ice/water needed, so if you use 1 gallon get a separate bucket/pitcher for washing. I didn't time anything because I simply didn't think to until I read other people doing it after, whoops.

Anyways I did 3 washes, well technically 2, the third wash was me letting the ice melt and then straining it the next morning and I had no intentions of doing a third one until I felt the water was still very cold. I shouldn't have done this during a playoff game, there's a lot of room for improvement but with using 1.5oz of old trim/nugs I don't think I did too bad. I didn't wash as aggressively as I should have because my bowl limited that also.

1st&2nd wash before and after going in the freezer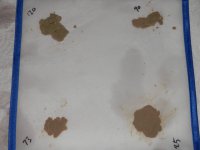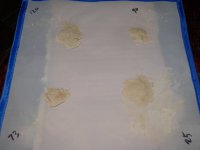 Okay so here's where I messed up, I really should've bought a microplane but I thought I had one around here, none of the holes are small enough though. I went with the smallest size grater I had. Another problem is when grating I should do half at a time while the other half is in the freezer so it is solid, you can see where the hash started warming up and it become harder to grate. I did this in a cardboard box on some parchment, it'll dry in a cool dry spot for 10 days minimum.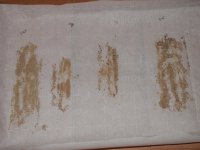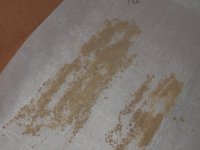 The third wash is still in the freezer, I'll wait until the microplaner arrives. When the next stimmiana hits I'll be grabbing a 6ton Dabpress.


Probably left some stuff out. Feel free to ask questions but I might not have the answer just yet.
Last edited: