I figured it's about time I let everyone see what I'm up to and how my grow and experience has evolved since becoming a member here.
I had just bought my first ever light and smart pots. Then dove deep into the how to indoor grow from forums and grow weed easy to the YouTube's. I don't know anyone personally that grows nor do I have someone to kinda help guide me through the process. So I learned everything by studying, hard work and many of failed experiments/bro science and the few tips and the For me growing attentively was completely new but a venture i was interested in None the less.
I had been throwing a few bag my seeds in the garden since I was a teen. But never really did the whole defoliating or LST. I was oblivious to actual cannabis cultivation.
My first real indoor grow with real genetics was in my closet. They were Goat Yogi from Cannabeizen and Copper Orgi by Briscos Bargain Beans. Both were sourced from my first and favorite bank DCSE.
1st closet set up:
Early 2020
Veg light-blurple 1000w LED (80w true)
Flower light- Mars hydro ts600 (100w true)
3gal fabric pots
70/30 mix of potting soil/perlite
General hydroponics flora trio nutes
Real growers Recharge n
(Copper orgi is pictured below with my grow buddy)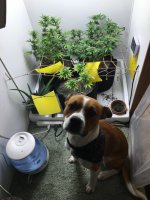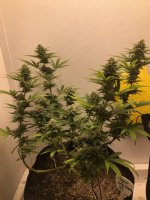 Personally I was not impressed with the first run of Goat Yogi. It was very airy and the buds didn't have all that much frost at all. The flavor and aroma didn't even come in on this grow. Now the copper orgi was amazing. Nice thick colas took to me trying to manifold it and screwing up in stride. Also produced a good quality flower. Very dank with a nice chem and lemon prominence in the aroma and smoke. Definitely want to grow that again!
Well I'll add more every day until I get caught up to where I am right now.