🦨
Staff member
Administrator
Moderator
Strain Name:
Hell's Hypotenuse
Genetics:
Hells Angels OG x Black Triangle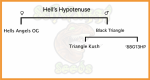 Sex:
Regular
Type:
Indica
Yield:
Medium-Heavy
Flowering Time
:
68-75
days
Height
:
Tall, x3-x4 stretch
Feeding
:
Light to moderate feed, HAOG phenos prefer the lighter feeding (can N tox easily early in flower).
Training
:
Support may be needed for the taller phenos by mid bloom. Will respond well to topping. If in hydro, flip a bit earlier to accommodate the stretch.
Phenotypes:
HAOG leaners:
Tall, long internodes, thick broad leathery leaves, tall/narrowed bud formation that fills out laterally later in bloom, and pine cleaner smells that can be accentuated with terpene enhancers.
Black Triangle leaners:
High yielding, tighter internodes, salty hash nose, 5-9 bladed leaves, and thick stems.
Effect:
deep tissue body relaxer and a great sleep aid.
Taste/Smells
:
kush, earthy, lemon/pine cleaner, salty, hash, fuel
Overall Summary
What happens when you take one of the most devastating OG cuts to ever exist and introduce her to Bodhi's marriage between Triangle Kush and the blisteringly potent 88G13HP? You end up with weapons grade herb that may pose a serious national security threat.
Hell's Angels OG brings the quintessential OG structure with her osteo-gelatin inducing effect and rich, deep earth fuel flavor. The Black Triangle offers a boosted yield, muscle relaxation with a saltwater hash nose. This cross was the first step of the project to backcross the H.A.OG and is being released as a limited offering after experiencing the great plants this pairing produces.
The Hell's Hypotenuse is a great option for those on the hunt for somatic medical needs as she can provide the benefits of a deep tissue indica and a great sleep aid. She's no one trick pony as the time dilation and wry smile that creeps across your face will attest.
Many phenos of the Hell's Hypotenuse will require support as the OG stretch can quickly present an engineering test for your garden. She can handle any training you'd like to try and if you are cultivating in hydroponics, you may want to flip early as her stretch is more exaggerated in these setups.