🌱🌿🌲🔥💨
Staff member
Administrator
Moderator
There is a product that allows for better adhesion of spray paint onto plastics such as plastic totes (Lowes Commander Yellow Top or similar). This plastic is Polypropylene and can be tough to get paint to stick on it. Regular light sanding can work but I have found this method to work quite well.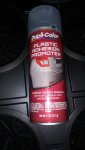 Available at O'Reilly Auto Parts for about $8/can. One can, using two coats, can cover one 27-gal Commander Tote Yellow Lid (or two of the smaller 5-gal Commander "Square" Tote Yellow Lids). Auto Zone doesn't carry them, they might have Bulldog, which is a similar product but costs 4x as much. IDK if it's better, because this stuff works and it's cheaper. No, Blowes, Dome Hepot, Wally - none of them carry this stuff, WTF?
Spray 2 light coats of the Plastic Adhesion Promoter with even swiping coats. Wait about 5 min between coats. Wait about 15 minutes then spray the lid with black spray paint (matte is probably best, a paint specifically made for plastics may be even better) in the same sweeping motion. Let dry for at least 30 min before handling.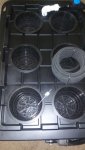 I tried scratching it with my thumbnail on several areas, and the paint stayed on. Why does this work? Apparently the spray has a chemical that kinda "roughs up" the plastic, giving it "teeth" and a place for the paint to "grab" onto. Another advantage is if you're trying to spray something that is not easily accessible or awkward to sand.