Good looking out on the doubling up the pucks with more plate real estate. It also sounds like a pressure gauge is a must if you're looking to find the sweet spots. Is the hydraulic pump with gauge worth the $140?
@Buck5050
Sure is! That's Cheaper then buying the pump and adding a gauge.
When I bought the ten ton, the pump w/ gauge was sold out, so I added one. Cost more and not as tidy as the combination.
10- ton with added gauge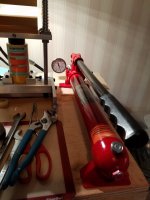 Wanted bigger plates and got the 12 ton with factory gauge,
Those pumps are Northern Tools OEM