I see no section for breeding and chucking?
Got some questions
I have been reading recently about F1 vigor. From what I understand this phenomenon occurs when stable/true, very unrelated plants are bred together?
This is not philosophically motivated ,,,
I have this Romulan Grapefruit male, flowering at this moment.In my very limited growing experience ,I am going to say it is a top 5% 'er.
I have delayed the photo period for 11 days, in an attempt to sync up my female bud run, in order to try my hand at "branch pollination "
Male Romulan is F8 and bred to female Grapefruit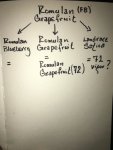 I also have a Romulan Blueberry, from the same breeder, "Philosopher Seed",,,which may or may not share the same Romulan parent.
As illustrated , I have a few questions.
- I opened a pack of Romulan grapefruit . I end up with a male and a female plant .
I breed those two together , and I now have Romulan grapefruit F2 seed ?
-In my illustration, the only place I would expect to see F1 vigor, would be the land race cross ?
-what can I expect from the RomGrape X RomBlu ,,,like,, is there an antonym for vigor?
What are the implications of a family re-mash-up, like that?
Forgive me, I have no experience in this facet, I don't necessarily know what I am asking.
When you start mixing these colours together do they always yield beautiful colors? Or, are there some mixtures that only make mud?
I have had an every flavored Slush-puppy before that was no good.
Would this be more like cherryPepsi X vanillaPepsi ?
should be good ?
How do you feel about the ROMROM mash up?
Plenty of females to choose from ,should I be looking elsewhere?