Okie dokie, here is a hack that i must dedicate to my being a wigger in a past life.
I rarely use a 4" inline fan even though I have at least 3 of them around because even throttled down they are Loud!
I enjoy another lil hobby, rc rock crawling.
So, I have a bunch of differant scale rc off road crap. Well I ran across a fan and in a box next to it was a set Moab XL 3.8 tires with foam,,,, hmm,,,.
So i grab i tire with the foam in it and it slips snugly onto the fan, so I take and drop it into the top of my 2x4 and plug it in and wow, quiter than a 6"!
I'm assuming the dense foam in the tire is acting like a muffler and made this little noisy fan usable.
Anywho, thats the idea that worked.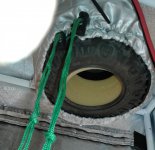 Last edited: