This run was supposed to be some new auto strains but with money a little tight I've decided to try and do better with the ones I ran before this. I'm going to train less, feed less, defoliate more, try another nutrient brand and run it side by side the Veg+bloom I'm using now. I'm saving for a better lighting solution. This tent needs one really good light, not 2 below average Amazon specials.
I'm running
2 Whiskey Zulu autos from Twenty20 Mendocino
2 Cantaloupe kush autos from Mosca
1 Trizzlers from Twenty20 Mendocino
1 Hindsight fem (I'm just getting this started for my father in law's outdoor garden. I'll document it's journey here)
Same soil, Promix all purpose.
I'm gonna make a 50 mile drive to the nearest hydro shop and get something to help with root production, a praying mantis and some nematodes to try and take care of any pests in this soi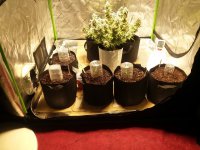 l. Right now the seedlings are in the big 4×4 tent 3.5ft under the parfactworks Ra2000 (230w) and are doing fine.
Next run after this I will be using Great lakes water only soil and whatever top dress amendments that I need to go with it. I'm tired of doing it the way I've always done it. I know I'm very capable of doing so much better and this place is helping me do that. I thank you all!
Here's a few of the start of things.