I've been pheno hunting a few strains and came across this blueberry plant that's exhibiting something I've never seen.
When I cracked this seed it showed strange growth right out of the gate. It was very compact and I'm guessing the overgrowth overwhelmed the plant and it topped itself in the first few days. Then it split and the main stalk took off.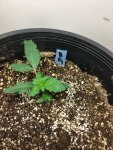 As it grew it became vigorous and at every node it's putting out three sun leafs and three branches.
I have a few plants that show similar type of tree formation (without three branches) where no matter how much I pinch the stalk it has refused to grow out the branches until just recently. Ending up looking much like a palm tree.
I'm new to phenohunting and growing regular seeds, does that sound like the actions of a male or is that palm tree growth just a pheno style. I'm seeing it in blueberry, white widow and NL so figured the tree looking structure to be indicative of a male but was just musing.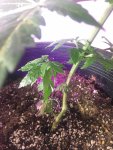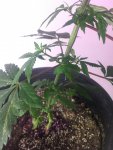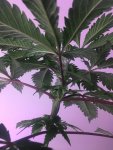 more interesting has anyone seen the three branches on a plant or is this some kind of mutant and I wonder if it's children will carry the trait. Could make for an interesting bud cluster. If I could breed three branches into a hybrid I'd be stoked.
Maybe it's a one off
Any thoughts?