Cannabis Chaotician
Staff member
Moderator
Good evening pHenohunters...
I've been waiting for an opportune moment to start a grow journal here. When I joined I felt like most things were ending. But when one story ends, another begins ...
This journal is open for comments and critiques by the way. I've been growing for a long time but I'm inconsistent to say the least. Always trying new things. Always a lot going on. Sometimes my grows suffer for it. But things always work out well enough.
So the real impetus to begin this journal is I'm finally launching into an adventure that I've been planning for a long time ... breeding.
Tonight I dropped the following seeds that I've accumulated over the last year or so:
4 each:
AKBB Romulan BX4
3Thirteen Sin City Juice
Bohdi Aluna (Colombian Red x 88G13HP)
3 each:
AKBB Dope Beard Durban
Coastal Swazi x Burmese
Bad Dawg Motor City Fighters
1 each:
Useful Blackened Oranges
Eso's Big N Tasty
Eso's Dyno Berry Bites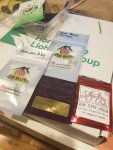 The hope is to find a good Romulan male for some breeding. The plan would then be to make a bunch of crosses with my favorites from this other stuff. I don't have room to finish all of it but finding homes for free plants has never been a problem. I'm probably overdoing it, but that's kind of my way.
Oh, and I plant to fem the Romulan too. It took so long to find a well recommended one that if it's as good as I hope, I intend to keep it around a while, in various forms. Plus I have a whole list of people asking for seeds now haha.