I have a couple gardens; One is at a remote location in a basement, one is at home. The basement is for production, the home grow is for experimentation. I mostly do pheno hunts and breeding projects at home, and that's usually where I get pictures. I had about 6 months where neither one was really rolling, 2020 y'know, and I'm just getting started again now.
I'm putting this here as a placeholder, more plant pr0n coming soon.
[Below is a re-post from RIU Chucker's Paradise thread]
700 watts of LED in a 4x4 tent, 120 watts of UV, 100 watts of cheap Home Despot side lighting, 480 watts of quantum board RSpec diy knockoffs.
Back left clockwise; a Dynasty freebie keeper, Cookies n Chem F2 chuck, Eso's Twinkle Tarts (showing a bit of leftover nutrient shock, my fault) and my Greenpoint OBS keeper is the runt clone in front left that'll probably take over the whole tent.
Coco, perlite, diy nutes and gravity-fed Blumats (not hooked up yet in pic)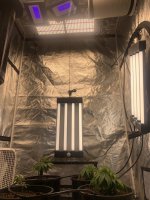 These pics were from December 12, looking a bit shocked from transplant and a previous high EC event. They are looking much better today but the lights are off, I already flipped them.
I also have some new gear popped in the small tent: My own cross I'm calling Panther Muffin [Cookies n Cream x Stardawg] x [Animal Cookies x Tropicana Cookies], a couple old Dank Commander seedlings from Rare Dankness, and four Welchie from Eso's Seeds.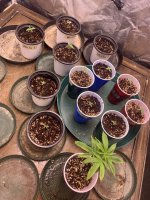 Cheers, y'all, post whatever you want, I'm an open book.
Last edited: